Takarazuka Programs Gallery Twelve
NONE of these items are for sale.
This is a private collection.
Here are images of original Takarazuka Revue programs. They are difficult to come by, especially if you don't live in Japan. Occasionally, Revue programs can be found on Internet auctions. Japanese language.


Moon Troupe: West Side Story Program 1998.
Staring Tsubasa Makoto, Mai Kazahana, Jun Shibuki and Sakiho Juri.


Star Troupe: The Love at Dal Lake Program 1998.
Staring Saki Asaji, Yuri Hoshina, Kou Minoru and Rui Hazumi.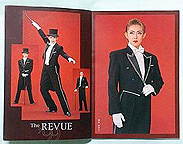 Cosmos Troupe: Gekijo/Revue '99 Program 1999.
Staring Tsubasa Makoto, Yuu Todoroki, Asato Shizuki (pictured above) and Yuu Emao.
The Cosmos Troupe is a special, because members are chosen from the other four Troupes.


Cosmos Troupe: Arabian Nights: Black Rose in Desert/GLORIOUS Program 2000.
Staring Asato Shizuki, Mari Hanafusa and Youka Wao.
L/R: Official Poster and Program.


Cosmos Troupe: The Rose Of Versailles Program 2001.
Please select from one of the Galleries below:
---
These Takarazuka Revue galleries visited
times since 3/30/02
Free counters provided by Andale.


Copyright 2002 David Ramsay and Kimberly J. Ramsay. All rights reserved.
"The Japanese Animation Super Premier Entertainment Review" ,
"the J.A.S.P.E.R." and "theJASPER" logo are trademarks of David Ramsay, 1998~2002.
"theJASPER Cosplay Closet" logo and
"The Cosplay Closet: 'Where Costumes Become Anime-ted'" slogan
are ® Registered Trademarks of theJ.A.S.P.E.R. Cosplay Closet, Inc., 1999~2001.
David "Z-RAM" Ramsay and Kimberly "Hikaru-chan" J. Ramsay acknowledge the
copyright holders of materials contained herein and do not seek to infringe on their rights.
Reproduction in whole or in part without permission is prohibited.
"Takarazuka Kagekidan", "Takarazuka Revue", "Takarazuka," and any images portraying
characters from any of the mentioned theater troupes © Takarazuka Revue Company,
Hankyu Corporation and associated parties.
First uploaded March 30, 2002 by: Kimberly J. Ramsay